| | |
| --- | --- |
| | Easy Android configuration: just scan a barcode |
| | Compatible with EAN-13, EAN-8, UPC-A, UPC-E, Code-39, Code-93, Code-128, ITF, Codabar, QR Code, Data Matrix, PDF-417 and AZTEC barcodes |
| | Send barcodes to any Windows application as keyboard inputs |
| | Possibility to enter a quantity after each scan: ideal to make inventories |
| | Write one or several .csv file(s) on computer in real-time |
| | Possibility to transfer batch of barcodes to computer with a USB cable |
Transform your Android phone into a Windows WiFi barcode scanner. This software is composed of an Android part and a Windows part.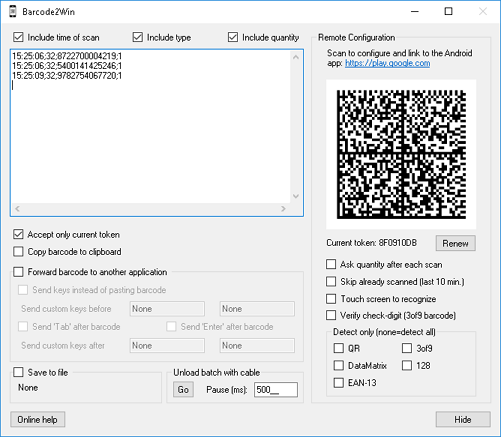 Microsoft .Net Framework 4.5 must be installed.
Don't forget to enable WiFi.
Basic use:

Start the Windows application.
Start the Android app.
To link both, with the Android app, scan the barcode displayed in the Windows Barcode2Win application.
Scan barcodes, they will appear in the Windows application.

To forward barcodes to another application (for example Notepad, MS Word or MS Excel):

Check "Forward barcode to another application".
To have one barcode per line, check "Send 'Enter' after barcode".
Open the destination application (Word, Excel...) and click to give focus where you want the barcodes to appear.
Scan barcodes.

Pause / resume barcode recognition.

Enable flash.

Detect inversed black/white barcode.

Flip image (useful when a 45 degrees mirror is attached to the camera of the device).

Detect only when preview screen is touched.

Linked to Windows application.

Skip barcodes already read within 10 minutes.

Ask for a quantity after each scan.

Multi-zones detection. Uncheck to detect only centered barcode.

Validate optional check-digit (for 3 of 9).

Detect EAN-13 code type (if none selected, detect all types).

Detect Code 128 type (if none selected, detect all types).

Detect 3 of 9 code type (if none selected, detect all types).

Detect QR code type (if none selected, detect all types).

Detect Datamatrix type (if none selected, detect all types).

Copy last barcode to the phone clipboard.

Share barcodes waiting to be sent (registered version only).
Barcode2Win may not be bundled with other software, included on CDs etc, linked to from other web sites or made available for download elsewhere. Link to this page instead.
Windows part: Barcode2WinSetup18.exe (version 1.8, full) (222 kB) for Windows 11, Windows 10, Windows 8.x, Windows 7, Vista.
Android part: download at Google Play.
Note: after installation on Windows 10, 8.x or 7, to show the Barcode2Win icon, click the little up arrow 'Show hidden icons' on the traybar. Next, click 'Customize...' and choose 'Show icon and notifications' for Barcode2Win.
After installation on Windows 11, to show the Barcode2Win icon, go to Settings > Personalization > Taskbar > Taskbar corner overflow and enable Barcode2Win.
If you have tried Barcode2Win and want to support its development, make a donation; give what you wish (minimum 6 EUR or 9 USD for personal use). When I receive a donation, I send your registration key, which removes ads on Android and save settings on Windows.
It's fast and easy. Just click on the 'PayPal' button below.
Thanks, Paludour.
Links / Credits
---

Last updated: 7/2023.